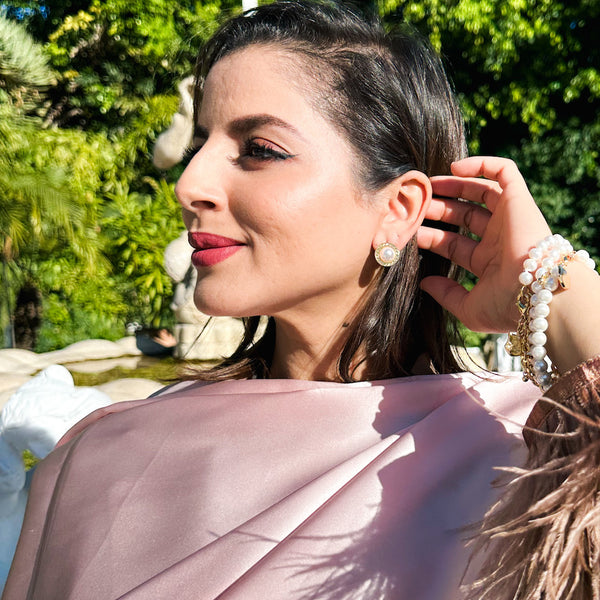 Enchant Zendaya Earrings
A timeless classic, The Zendaya Pearl Stud Earrings will add a touch of chic to any outfit.  The 18ct gold plated Zendaya earrings feature a faux pearl surrounded by greca print.  The intricate greca print detail combined with the stunning faux pearls oozes decadence and luxury.  The Zendayas are the perfect piece to take you from day to night. 

Size Guide
Diameter 13mm 
Lightweight 
Jewellery Care Guide
Your Enchant jewellery should be stored in a cool, dry place and cleaned carefully with a soft soft lint free cloth.
Always store your jewellery pieces individually, ideally in your Enchant pouch so that they don't rub together, scratch or tangle. Particular care should be taken with gemstones to ensure that they do not knock against each other while stored. It is best to keep your chains fastened so they don't become tangled.
Your jewellery is susceptible to damage from the effects of chemicals present in perfume, hairspray, make-up, nail polish remover, body oils, sun tan lotion and deodorant so it is best to avoid spraying these where your jewellery will be in contact with.  Remove jewellery while in water or showering.  Do not keep jewellery in direct sunlight as this can cause many gemstones in particular to fade and lose their colour.